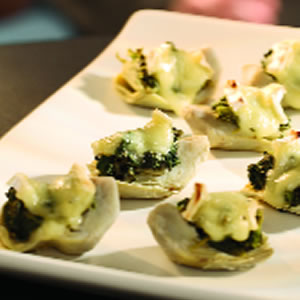 Cheese and Spinach Artichoke Hearts
This warm tasty treat is a great low calorie and low carb way to get natural sources of electrolytes (sodium, potassium & magnesium), calcium and antioxidants like vitamin A.
Three servings has just 1 gram of carbs, making it a great option for anyone with blood sugar issues. ENJOY!
Makes 18 servings
PREPARATION TIME: 15 minutes
TOTAL TIME: 15 minutes
EASE OF PREPARATION: Easy
1 9-ounce box frozen artichoke hearts
2/3 cup cooked chopped spinach
1 teaspoon lemon pepper
1/4 teaspoon sea salt
18 thin slices of brie, provolone or pepper jack cheese
1. Preheat broiler. Prepare artichoke hearts according to package directions.
2. Combine spinach, lemon pepper and salt in a small bowl. Top each artichoke heart with the spinach mixture and cheese. Broil until cheese melts, 1 to 2 minutes.
NUTRITION INFORMATION: Per serving: 20 calories; 1 g fat ; 1 g protein; 1 g fiber.


Nutrition bonus: High in natural sodium, Vitamin A, folate, potassium, magnesium and calcium.